Since I will be out of pocket this weekend,
I'm going to go ahead and schedule this post.
***********

Nature crafting has a special feeling to it.
You have to gather your materials,
which means being outside and
appreciating and evaluating what nature has to offer.
the use of twigs has been a favorite excuse
to cover them with yarn or embroidery floss
(and, yes, I did mention that "red stick" has
a certain Louisiana connection,
a la Baton Rouge).
Love 'em!
I've seen several other intriguing examples of twig art--on blogs and on Pinterest.
Pretty Ditty

made a reindeer, perfect for Christmas!
Simple and elegant
in a nature crafty way.
Found via Pinterest, a twig ladder with hearts from

Red Cotton

.
These are no longer available, but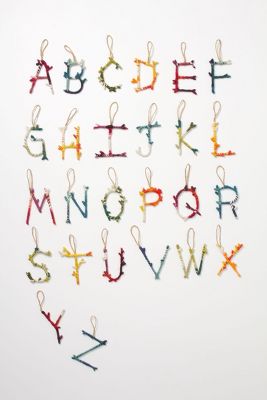 I might try some Antro knock-off letters myself.
-----------------
Oops, I thought I had this post scheduled for Saturday,
I had also planned to gather
a bunch of twigs while at the cabin
left just a little time to work
and I forgot about twigs.