All of my Halloween items
are pretty much out now,
on a shelf or the mantle or a table top.
It is often difficult to keep the Evil Triad
from bothering them,
but Lucy is more intent on keeping an eye out
for anything of interest on the street.
The projects still in progress
will probably have to wait until next year.
Finished this one last night,
but 4 others are still not done.
How I love clay and glitter!
And book pages.
Today has been (and will be) mostly laundry and chores.
Also need to do some shopping and running of errands, but have successfully put that off for now.
http://www.craftberrybush.com/2012/10/happy-hour-linky-party-7.html
and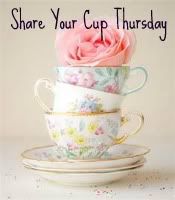 "http://www.jannolson.blogspot.com/2012/10/share-your-cup-thursday-31.html>