January-April found me stitching almost every day--until the
last week
of April, that is. At some point, I lapsed into a reading cycle and began neglecting the stitching.
I've got several books yet to review on my book blog. One of them is
Hush
by Donna Jo Napoli, which I'd hoped to count for the
Once Upon a Time challenge
. Napoli writes for young adults, and her
Zel
(a retelling of Rapunzel) is excellent.
As it turned out, I'm not sure that
Hush
qualifies for the Once Upon a Time challenge, and while it is by no means as good as Zel, it caught my interest immediately because on the first page it mentions Brigid's cloak, dyed with
woad
.
woad from Wikipedia
madder - Wikipedia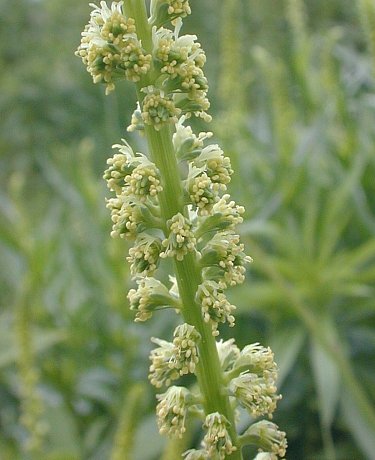 weld- Wikipedia
A few pages later it mentions Melkorka's red cloak, dyed from
madder root
, and her linen tunic, dyed yellow "from the
weld
plant." I couldn't locate the passage where Melkorka describes the treatment of woad to create the blue dye, but it is brief and accurate.
I love it when a novel serendipitously evokes my other interests. As a novel,
Hush
had some disappointments, but the historical tidbits of Eire in the 10th century, dyeing and knitting references, the making of vellum and illuminated manuscripts, the Viking attacks and Norse lifestyle...make this YA novel well worth the reading.
---
A slow cloth on eco dyed fabric that I've been working on when I don't have another project going. Working on projects requires thinking, but working on this slow cloth in between projects allows me to stitch with no destination in mind.
Karen Ruane's May class has begun, and I haven't even watched the first video! I'm really going to have to put my books and gardening on hold and work on the class.